Luka Koper, d.d. is a successful company oriented towards comprehensive quality of operations.
Quality means satisfying and anticipating the needs and expectations of our customers: buyers, employees, shareholders and the environment.
Our goal is to establish what the customers want and to direct internal processes in such a way that they get the desired. In doing so we rely on the international quality standards and the principles of business excellence we introduced and linked into a uniform system – a system of management.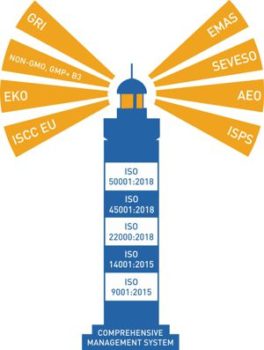 The comprehensive management system includes requirements of various systems and other special requirements:
quality management system in accordance with ISO 9001,
a system of dealing with the environment in accordance with ISO 14001 and EMAS,
provision of appropriate foodstuffs according to ISO 22000
occupational health and safety management system ISO 45001
energy management system according to ISO 50001
storage and transshipment of feed stuff on the Dry bulk terminal is carried out following requirements of GMP+ B3 standard,
NON GMO system for separate handling and warehousing of non-genetically modified soya,
the ECO standard certificates the production, processing, sorting, packaging, warehousing and transport of organic food and foodstuff with the valid regulation for ecological farming. The requirements are met on the reefer, general cargo and dry bulk terminal,
the AEO certification testifies to the fact that the Luka Koper customs zone is a safe area, and that cargo transported via the Port of Koper is subject to a very low degree of risk,
our liquid cargoes terminal is ISCC EU certificated for all type of biomass, which are included in ISCC EU system following the EC Directive on the promotion of the use of energy from renewable sources,
the SEVESO directive, which deals with major accident hazard,
the ISPS Code (International Ship and Port Facility Security),
the GRI – Global Reporting Initiative.
Our activities are constantly focused towards new standards and we strive to upgrade the integrated.
The Management system in Luka Koper has to be systematically upgraded.
Overview of quality management systems devlopment
Luka Koper was among the first European ports which organised its entire operations according to international quality standards.
The milestones in the development:
1994 – the principles of quality start being integrated in the company's working systems and practice,
1997 – the ISO 9002 certificate is acquired for conformity of the quality system with the relevant standards,
1998 – the business excellence model starts being introduced in operations,
1999 – first self-assessment is made in line with the EFQM model,
2000 –  the ISO 14001 certificate for managing the environment is acquired,
2002 – the company receives the Business Excellence Award from the Republic of Slovenia,
2003 – the ISO 9001:2000 certificate is obtained,
2004 – the HACCP system is introduced in the trade in foodstuffs and the PC Dry Bulk Cargo Terminal is awarded the Non GMO Certificate according to the requirements of the BRC Standard for  the Supply of Identity Preserved Non-Genetically Modified Food Ingredients and Products,
2005 – the company becomes a member of the European Foundation for Quality Management  (EFQM).
2005 – the company receives the European Business Excellence Award
2006 – the company enters the competition for the most prestigious European Business Excellence Award, and becomes an Excellence Award Finalist
2007 – the ISO 22000:2005 (including HACCP plan) food safety management system is obtained
2008 – the BS OHSAS 18001:2007 occupational health and safety management system is acquired
2009 – renewal evaluation of the ISO 9001:2008 management system and reintegration in the process for the EFQM Business Excellence Award,
2010 – obtained EMAS certificate, EMAS system is a tool for systematic environmental management,
2011 – obtained AEO certificate by gaining Authorised Economic Operator status,
2012 – obtained Organic (ECO) certificate for PC Dry bulk terminal,
2013 – obtained Organic (ECO) certificate for PC General cargo terminal – Fruit terminal.
2014 – obtained ISCC EU certificate for Liquid Cargoes terminal
2015 – obtained GMP+ B3 standard certificate for system of storage and transhipment of feed stuff 
2017 – transition to ISO 9001:2015 and 14001:2015 standard certificate for management system 
2020 – obtained ISO 50001:2018 for energy management system, transition to ISO 45001:2018; transition to ISO 22000:2018