After Vienna and Prague, we also hosted successful business events in Bratislava and Budapest over the past few days. More than 350 guests, including representatives of the Port of Koper community, attended the traditional receptions for business partners from Slovakia and Hungary.
In recent years, the traditional event of the Port of Koper has grown beyond its original scope and has become not only a place for socialising, but also an opportunity for business networking and strengthening partnership ties. At the Port of Koper, we are well aware that successes and achievements are the result of fruitful cooperation with business partners and customers, who are a key link in the logistics chain.
Back in Bratislava after a few years hiatus
After an interval of a few years, we hosted the Slovak logistics community in the concert hall of the University of Bratislava. On this occasion, the new representative of the Port of Koper for the Slovak market, Igor Pamič, was officially introduced to the partners. The Port of Koper's Sales Manager Andrej Cah, on behalf of the Company's management, thanked the gathered for their long-standing trust and support. "Slovakia is an extremely important hinterland market, especially in the container and automotive segments. Since our last meeting, we at the Port Koper have invested heavily in modernising and developing the port infrastructure, all with the aim of meeting the market demands", said Cah. The reception was also attended by the Ambassador of the Republic of Slovenia in Bratislava, His Excellency Dr Stanislav Raščan, who took up his new office just over a year ago.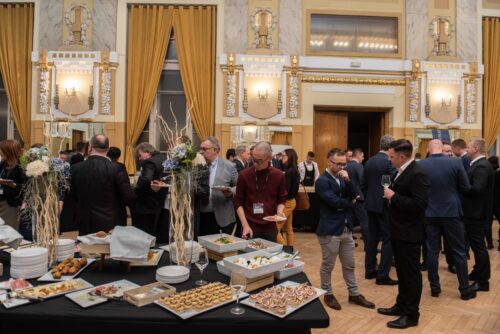 We also strengthened ties in Budapest
A day later, we organised a reception for our business partners in Budapest. More than 200 guests attended the event at the National Museum of Agriculture, including the Ambassador of the Republic of Slovenia in Budapest, His Excellency Marjan Cencen.
On behalf of the Port of Koper, Gordan Ban, the Company's representative in Hungary, and Andrej Cah, Sales Manager, addressed the guests. They highlighted the importance of growth and upgrading infrastructure and presented some of the Company's current activities in this area.